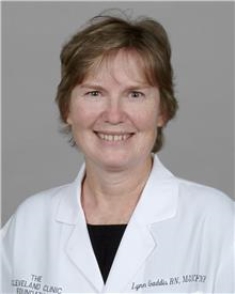 We recently spoke with Lynn Gaddis, DNP, RN, CNP, to learn why experienced advanced practice nurses decide to return to school for a Doctorate in Nursing Practice.
Lynn, an advanced practice registered nurse for 37 years, recently graduated with her DNP from Kent State University. She is currently practicing as a Family Nurse Practitioner certified in pain management at the Cleveland Clinic-affiliated Lorain Family Health Center.
---
Q: Hi, Lynn! Thank you for speaking with us. What were your main reasons for going back to school for your Doctor of Nursing Practice degree?
A: Thank you for having me. There were many reasons for my decision. One, I feel that the DNP should be the terminal degree for the advanced practice nurse in order to navigate through the complex political, patient and healthcare issues facing the US. I also did it for personal and professional satisfaction. I wanted to advance my career as an advanced practice nurse.
Q: You earned your master's at Case Western Reserve University and your BSN at the University of Akron. Why did you choose Kent State for your DNP?
A: Kent State has provided great value for less cost than most universities. The family atmosphere and sense of professionalism were the drawing factors.
Q: You have many decades of experience as an advanced practice nurse. Did earning your DNP improve your practice, and if so, how?
A: I have applied many of the lessons I learned from the DNP program, especially in the current healthcare arena. Navigating through the political and insurance jargon has made more sense ever since I completed the courses taught through the program.
Q: Some advanced practice nurses wonder if going back for their DNP is worth the time and effort. What advice would you give to these nurses?
A: I have no reservations advising someone to attain their Doctor of Nursing Practice. I have been an APRN for 37 years and would do it again. It is professionally and personally rewarding.
---
We hope you found this interview with Lynn Gladdis as informative as we did! You can find out more about Lynn on her Cleveland Clinic profile and connect with her on LinkedIn. You can learn more about Kent State's Doctor of Nursing Practice program at https://www.kent.edu/nursing/programs/doctor-nursing-practice.
Do you have any questions for Lynn? Be sure to post them in the comments below!