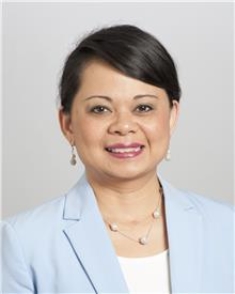 Following our interview with Lynn Gaddis, we sat down with Audrey Godoy, DNP, NP-BC, to find out why some APRN's go back for their Doctor of Nursing Practice degree a few years after completing an MSN.
Audrey, who recently graduated from Kent State University's DNP program, has been an Adult Nurse Practitioner specializing in cardiovascular health for the past 9 years. She currently practices at the Cleveland Clinic-affiliated Richard E. Jacobs Health Center in Avon, OH.
---
Q: Welcome, Audrey. Thank you for taking time out of your day to talk with us. First, why did you decide to pursue your Doctor of Nursing Practice degree?
A: My pleasure! Earning a DNP has been both a personal and professional goal of mine for a long time. I aim to achieve the highest excellence in nursing care, and I felt that completing a DNP program would allow me to do that.
Q: Why did you choose Kent State for your DNP?
A: In many ways, Kent State was more desirable than other schools in the area. I was drawn to KSU because I received all of my other degrees there. I remembered that it was a rewarding experience as the faculty and staff were very friendly and available at all times.
Q: Since you've completed your DNP, how has your practice been affected?
A: My Doctor in Nursing Practice degree has afforded me the opportunity to look at best practices in our cardiology department and develop ways I can improve patient care.
Q: We often get questions from APRN's like "would the DNP be a good move for my career?" What advice would you give to these nurses?
A: Pursue your DNP if you are able to do so. It can open many doors for you, especially administrative and teaching opportunities.
---
Thank you again Audrey for your very pertinent answers. Learn more about Audrey on her Cleveland Clinic profile and connect with her on LinkedIn. Find out more about Kent State's Doctor of Nursing Practice program at https://www.kent.edu/nursing/programs/doctor-nursing-practice.
Would you like to ask Audrey any questions? Go ahead and post them in the comments below!