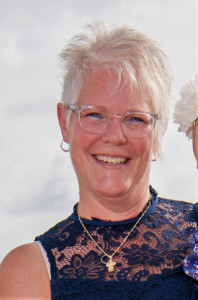 Hi everyone! I am Kathy McKee from Kent, Ohio. I have always wanted to be a nurse, but in high school I was told, "You just don't have what your older siblings have. You should find a trade job." Ouch! Right? Since then, I have raised three beautiful daughters, all Kent State University graduates. Then life hit; I began to wonder why I was allowing a statement from a high school guidance counselor stop me from pursuing my dream. When I finally received my licensed practical nurse (LPN) certification, I was discouraged to discover many LPNs were being phased out of hospital settings, however, they were still needed in nursing homes and home health settings. I knew that path was not for me, so I dreamt bigger. I ended up working as an LPN in the post-anesthesia care unit (PACU) at an ambulatory surgery center for a little more than 7 years when my daughters told me, "If you are going to be a nurse then you are going to Kent State."
I started taking classes part-time at Kent State Twinsburg 6 years ago and graduated from Kent's associate degree in nursing (ADN) bridge program nearly 3 years ago. Today I am employed at Akron City Summa main campus as a telemetry nurse. After graduating with my ADN, it only made sense to continue advancing my career with Kent State's 100% online RN-to-BSN program. Kent State is the best school for nursing. Having precepted nursing students and had students follow me in clinical rotations, I truly believe Kent State nursing students are amazing and stand above the rest.
Kent State offers so many options when it comes to earning your degree and I am grateful for the 100% online RN-to-BSN program. It is super flexible and I never felt pushed into taking more than I knew or thought I could handle. The professors are great, each one has been available and willing to help. They are accessible via email, office hours or by phone and have always gotten back to me in a reasonable time. As for courses, I was scared of statistics and critical care, but my favorites were AP and chemistry. Kent State's 100% online RN-to-BSN program is not easy, but I have always found help was available if I asked! And taking classes online is easy as long as you have good internet connections! Everything you want in life will have stumbling blocks, but those challenges help you appreciate the reward that much more.
It may have taken me a while to find my career due to my high school set back, but I am pleased to say I will graduate in 2020 in front of my three daughters, three sons-in-law, and four grandchildren. As a mother and grandmother, this will be the best example of following your dreams and not letting barriers stop you that I can provide future generations. If you want it, you can achieve it, now go out and make it happen!