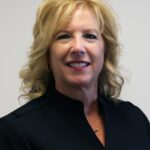 Joan M. Hanson, BSN, RN, CHPCA, is a current student in the Nursing Administration & Health Systems Leadership program at Kent State and will graduate with her master's degree in May 2020. Coming from a family where several members are nurses, including her grandmother and sister, it was not surprising Joan also felt called to this profession. "I enjoy helping others, and I wanted a career where I could provide compassionate care to those in need," said Joan. "I was also drawn to the multiple and varied opportunities for professional growth within the field of nursing." With over 20 years of clinical management and leadership experience in nursing, Joan recently shared with us why it was important for her to pursue an advanced degree.
Q: Welcome, Joan. We are so pleased to have you joining us today. Let's jump right in! What were your top three reasons for pursuing your Nursing Administration & Health Systems Leadership (NAHSL) degree?
A: Thank you for having me! It's a pleasure to speak with you. As you mentioned in the introduction, I have over 20 years of clinical management and leadership experience in nursing and I wanted to expand my professional credentials to align with my experiences. I knew I wanted an advanced degree in nursing and found the NAHSL degree would afford me additional opportunities to pursue, which all require a graduate degree, such as becoming a Joint Commission Surveyor. I also chose to pursue a graduate degree because it was a personal and professional goal of mine. It will allow me to expand my knowledge of nursing leadership and use my existing clinical and leadership skills to better serve my clinical population. Additionally, I did not want to end my nursing career without achieving this goal.
Q: What made Kent State's program more desirable than other schools?
A: Kent State's NAHSL program has excellent faculty, a robust and diverse curriculum, and real-world application of knowledge through assignments and practicum to support my area of practice. Kent State also demonstrates a commitment to high-quality education and the value of the nursing leadership experience.
I ultimately chose Kent State after speaking with the NAHSL program coordinator. It was clear that I would be valued and supported as a student within this program. The ability to complete the degree program at my own pace was also important to me. Furthermore, I felt a strong sense of commitment to the program from the college and its faculty and staff.
Q: What are you most enjoying about your Nursing Administration & Health Systems Leadership degree program?
A: The diversity of the curriculum and the expertise of the professors. I also have enjoyed my interactions with other students because they have helped to expand my knowledge by linking their experiences with our course content.
Q: How are you managing to both work and be a Kent State graduate student?
A: An important consideration for me prior to applying for and attending graduate school was the impact it would have on my personal, work, and professional areas of life. I have young grandchildren, so spending time with family is a priority in my life. The flexibility in scheduling this program offers has allowed me to find balance. I chose to take one course per semester, including summer sessions. With the comprehensive syllabus provided in each course, I was able to map out the workload for the semester. Most of my courses were broken down into weekly assignments that were easy to manage and accomplish before moving on to the next assignment. Good time management and course preparation also made it manageable for me.
Q: Where are you currently working and what does your role involve?
A: I am the Director of Hospice of the Western Reserves' palliative care program, Western Reserve Navigator. My responsibilities include oversight of the clinical operations and services related to the program, including financial and human resource oversight. I ensure that the program, practices, and activities are appropriately integrated into the strategic plan of the organization. Finally, I ensure safe, quality care is provided to our patients through policy and program development.
Q: How are you applying the lessons you've learned in the Nursing Administration & Health Systems Leadership degree to your nursing career?
A: I have applied the knowledge gained from this program in all areas of my clinical setting. While I enrolled in the program with over 20 years of leadership experience, this degree program situated my clinical experiences with theories and frameworks of effective nursing leadership. I have primarily applied my knowledge in the areas of decision-making and leadership related to finance, human resources, program and policy development, and patient outcomes. For example, one assignment in this program was to develop a financial business plan. I was able to use many parts of this business plan in my current role as a palliative care director towards achieving a two-year grant for transitional care and building an advanced illness management program. Finally, working towards this degree has opened my eyes to possible future endeavors that I did not consider prior to enrolling in Kent State University College of Nursing's graduate program.
Q: What would you like to say to people considering coming back to school at Kent State University College of Nursing?
A: I had no experience with online college-level learning prior to this program, however, I quickly learned that online learning can be very effective. Additionally, with the flexibility that online learning offers, there was a reduced level of anxiety given my ability to fit the academic work into my schedule. If you have a goal in mind related to advancing your nursing education, you can make it happen at Kent State. Finally, the organization of the curriculum allows you to complete your coursework while working. I was unsure that I would be able to complete the curriculum while working, but the collaborative nature of the student and instructor allows this to happen very smoothly. The instructors are extremely responsive and willing to help you throughout your coursework.
Q: Thank you for speaking with us, Joan. Is there anything else you'd like to share about your Kent State graduate student experience?
A: Thank you for inviting me to share my experiences! I have been amazed and awed by the diversity of classmates that I have met through my curriculum.  Some with management experience, others with none, mothers and fathers juggling full-time employment and young families and even growing families, newer nurses and more experienced nurses, we all benefit from the wisdom of each other. I am grateful for the opportunity Kent State afforded me to learn and grow as a nursing professional.