Like many nursing students, Sara Peterson, a senior from Buffalo, NY, always had a strong urge to help people in any way she could. Throughout high school, she researched various careers within the medical field, but she was unsure if that was truly what she wanted to do. But that all changed when she was called out of class in her junior year of high school for a family emergency.
"My older sister had collapsed at Miami University, 7 hours away from Buffalo, and was in the ICU with septic shock," recalled Peterson. "I had never spent time in a hospital before and was scared, but I will never forget nurse Grant. Grant is the type of nurse I aspire to be as he showed my family and me endless support and comfort. He not only cared for my sister, but he also truly helped my family get through a very difficult time."
Peterson chose to pursue her bachelor's degree in nursing after her sister's illness and hospital stay.
"I knew receiving my BSN from an accredited program would allow me flexibility within the nursing field," she explained. "I knew the degree and education I would receive from Kent State University College of Nursing would prepare me to pursue my future career as a nurse."
Kent State was a good fit for Peterson in many ways. She found the university campus to be the right size and enjoyed the welcoming environment. It was also a good distance from home and the tuition cost was within her personal finances.
"I chose Kent State because of the comforting atmosphere and environment. I toured the campus on a rainy, windy day and still fell in love with the school," remembered Peterson. "The nursing program stood out to me as well with their simulation and skills labs and their affiliations to surrounding hospitals in the area. As an accredited program with a strong NCLEX pass rate, I knew I would receive the education I needed to thrive in my career."
As an out-of-state student, Peterson has enjoyed experiencing different housing accommodations during her college career.
"I wanted to try the dorms, so I lived in the Honor's College freshman year. I moved into a sorority house my sophomore year and then to an apartment off campus for my junior year," explained Peterson. "Before the start of the fall semester, I will be moving into a house off-campus for my senior year. I've loved every place I have lived. It's been nice to experience all the different styles of housing in Kent."
Peterson has enjoyed the variety of classes in the BSN program, along with the opportunities her clinical experiences have provided.
"My favorite memory has been seeing a live birth during my labor and delivery clinical rotation," she exclaimed. "I had absolutely no idea what to expect going in, so I kept an open mind. It was a beautiful sight to see."
Reflecting on her Kent State journey thus far, Peterson realized she has accomplished so much more than she has given herself credit for.
"The nursing program is challenging, and I am prone to self-doubt. But when I look at my time at Kent, I have accomplished so much through my clinical experiences and passing really challenging exams."
Peterson credits her planner for helping her to stay on track through her nursing program.
"I love my planner, Google calendar and notes app. It's so important to keep track of dates and plan for big assignments and exams," she said. "Lists help me a lot and so do taking breaks! During my clinical rotations, I also am constantly writing things down to keep track of important information and to help prioritize my responsibilities."
In addition to her personal planning strategies, Peterson's nursing friendships have played a role in her success as well.
"The nursing program is difficult, so having friends who understand the demands is important. We help keep each other motivated and on track throughout this nursing journey," she explained. "We are constantly checking in on each other, offering support and planning study groups."
Recently, Peterson began working as a nurse technician at Summa Health in Akron in the Family Medicine Center. Her roles involve rooming patients, durable medical equipment (DME) orders, point of care testing (POCT) such as drawing A1C, lipid profiles, and dipstick urinalysis. She can also draw blood and perform EKGs.
"I use a lot of the knowledge I have learned in the nursing program at my job currently. From basic vital skills knowledge to therapeutic communication, to knowing the side effects of certain medications. The outpatient center I work in is a very different type of nursing than I was used to in clinicals, so I am exposed to many different populations within the community," stated Peterson. "For my future nursing career, the lessons I have learned from the BSN program have taught me how to prioritize my actions in practice, communicate with others and always strive for more."
Peterson feels strongly that if an individual is interested in a career in nursing, they should consider obtaining their bachelor's degree from Kent State.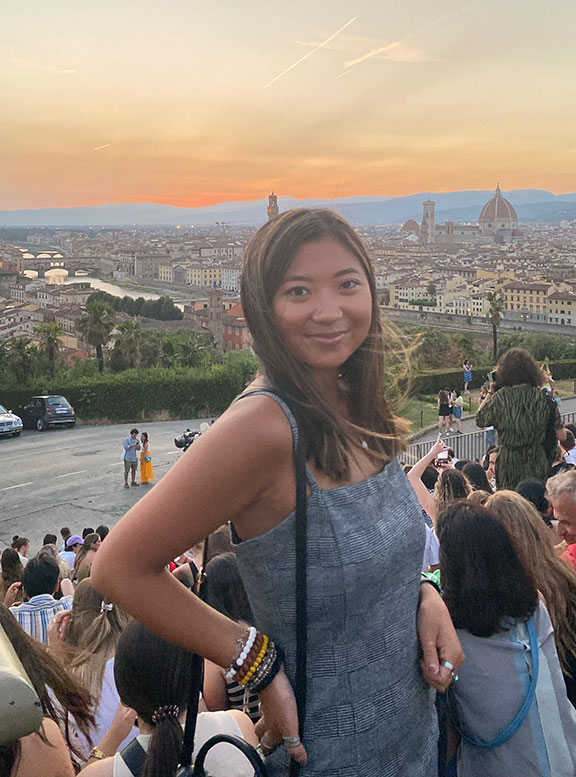 "Kent offers so many great opportunities and unique experiences within the BSN program that will set you up for success in the nursing field. I was fortunate enough to travel to Florence, Italy one summer as part of the Florence Health Institute. This month-long study abroad opportunity was an easy and fun way to travel to a different part of the world where I toured public and private hospitals and learned about their international healthcare system. It was enlightening to hear about different healthcare systems from around the world and see the impact of those healthcare systems. It was one of the best experiences I've had as a Kent State student!"
Peterson is slated to graduate with her Bachelor of Science in Nursing in May 2024. She came to Kent State with an open mind hoping to discover what areas of nursing she felt drawn to through her clinical experiences. Looking to the future, Peterson does not feel set on one specific area just yet.
"So far my favorite clinical rotation has been OB and labor and delivery," she shared. "But pediatrics is a close second. I still have a few more rotations to go, so I'm excited to see where those will take me and what I will learn."
To learn more about Kent State University College of Nursing's Bachelor of Science in Nursing (BSN) program, please register for one of our virtual or in-person information events by visiting https://www.kent.edu/admissions/tours-events.